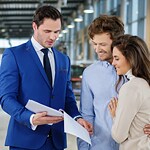 Whether you're buying a house, a computer or a used car, you want to know you're getting a good deal for your money. When buying a car, we really want a good deal because it's something we want to last for a while. We at Perkins Motor Plex want you to be informed and knowledgeable as possible when you make your next car purchase. Here are some tips on how to get the best deal on a used car.
Determine your budget before you leave home and only check out vehicles that fit within your budget. Research potential vehicles to learn their reliability ratings, and also obtain a Carfax vehicle history report. If it's possible to contact the seller, do so. Take the vehicle out for a test drive.
Give us a jingle or come and see us at our shop. We invite you to take a vehicle out for a test drive while you're there.