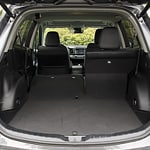 We here at Perkins Motor Plex want to ensure that you make the most informed decision possible when purchasing your next vehicle so that your satisfaction is maximized. That is why we are so excited to tell you all about the benefits of buying one of our incredible crossovers!
First, crossovers offer extra space compared to a smaller sedan while also including many of the additional features only found in a larger SUV. Additionally, despite having this extra space, the fuel efficiency of a crossover is far better than much larger SUV's which leads to fewer fill ups and more money in your wallet each pay check.
If you would like to test drive any of our crossovers to see if they are the right fit for you then feel free to give us a call to set up an appointment for a future date or simply stop on by to see us today!